Cages to foster Pin-tailed Parrot Finches are all wire, suspended (46cm wide x 36cm high x 30cm deep), [18" wide x 14" high x 12" deep]. 

Bottom trays are internal so can be raised during fledging.

Seed capacity, when not breeding, large so cages are self-sustaining for a week.

Lighting is normal fluorescent.
Watering is automatic, 6 times a day.

Nest boxes are 13cm [5"] half-fronted white plastic cubes.
Coconut fibre only nesting material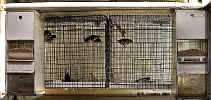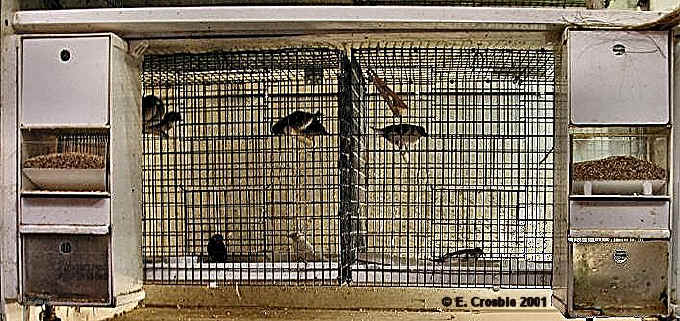 Bengalese in left cage have Pin_tailed fledglings
(click outside border to close the photo)
(click magnifier to enlarge)
Cock trios versus pairs - trios seem more reliable than duos, especially at the critical stage of the first day or two after fledging.

We used to resort to hand feeding newly fledged Pin-tailed youngsters for 3 or 4 days until the Bengalese took over their duty. This appears to have been due to slightly weak youngsters
With additional vitamins, probiotics, additives and protein boosted soft food, this problem has mostly disappeared, with trios anyway.

All-cock trios are more controllable than mixed trios. Mixed trios, or pairs, can start laying when the Pin-tailed aren't at their prolific best.

Fewer trios are required than pairs due to the timing issue with pairs or mixed trios.

Sitting Bengalese cocks are quite flexible. They have even taken over 2-day old Pin-tailed chicks.

This is when the Pin-tailed adults had secretly built a nest and hatched eggs unbeknown to me.
Creating 'clucky' Bengalese - cock Bengalese can be relied upon to go 'clucky' within 4 days. Place 1 china egg daily in nest box for four or five consecutive mornings.

Virgin Bengalese - it seems better that the Bengalese are young and have not raised any Bengalese themselves. Bengalese as young as 3-months have proved enthusiastic and efficient foster parents.
This is probably unnecessarily extreme, but I will not raise any Bengalese within earshot of the foster Bengalese..

Splitting nests - if the parent Pin-tailed are fully fit and laying their 7 eggs, of which 6 will be fertile, I prefer to split the eggs between two trios of foster Bengalese.

This gives all youngsters the best possible chance.
In the first few days after hatching the chicks can be moved and split.

One foster trio is given the older youngsters which are most robust and the other foster trio the smaller, less robust.

This way the smaller Pin-tailed chicks are given good attention and food, so usually have a good chance of surviving.
Feeding fostered
Pin-tailed Parrotfinch chicks