Nest sites we and the Pin-tailed chose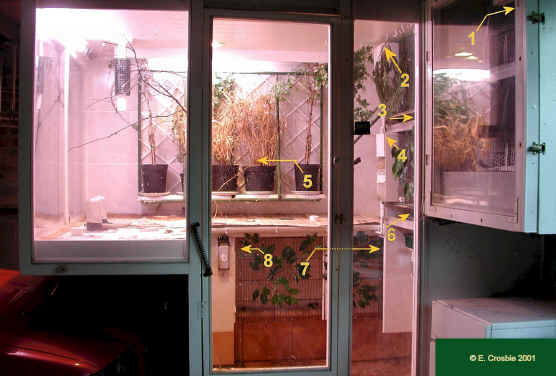 Nests - 15cm by 15cm by 15cm, external dimensions half-fronted wooden boxes. A semi-translucent, half-fronted plastic box of 13cm x 13cm x 16 cm (5" by 5" by 6.5") has been used ('4'). Nests started in the baths many times.

Material - coconut fibre is all that is needed, some straw can be added but it's not necessary. Fashion the fibre into some sort of nest in each box.

Siting - with a colony, get them started and any container or nook or cranny will be pressed into service. Plant pot '5' was a classic.

Height - sites range from highest available, 2 metres ('1' & '2'), to lowest 90cms ('7' & '8').
Siting - boxes have always been sited with the entrance facing inside away from my gaze. However, all free-built nests have had their entrance facing outwards!

Nest building was attempted in a bird bath which had fallen to the floor during one particularly intense breeding frenzy. Once a nest was built in the lower portions of a small pot plant ('5').

Shelves - nests have been built between shelves formed by the bottom of the upper cage and the top of the one below.
Entrance height of only 6cms, internal height only 7 cms and reduced further by conifer branches on floor of the ledge ('3' & '6').
Inspection - never look in a nest if building has started or egg laying may have commenced.
Nest and/ or eggs will be abandoned. However, with a full clutch they sit very tightly.

Nest box tops - make nest box top removable if fostering is intended. Pin-tailed Parrot Finches make a small, tunnel-like nest entrance.

Extracting eggs or chicks with a spoon without a removable nest box top is extremely difficult.

The floors of the cages in the 'factory' were also removable for access to self-built nests in the ledge below.
See sequential development of Pin-tailed chicks
at
Chick photographs
.