Structure which works well for colony breeding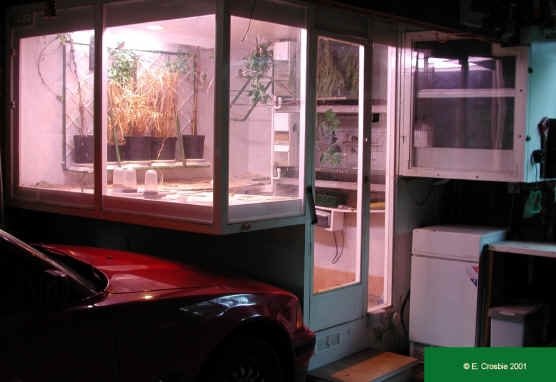 Two benches - food pots on the left & front.

Two cages are at the right-rear with small ledges below to facilitate cleaning.  The cages continue through into the upper extension on the far right.

The upper cage is fully open at its left-hand end. The birds retreat here from sight as we enter the flight.  Six of the 8 adults were in this upper cage as this photo was taken.

Lighting - mainly from by Triton™ fluorescent bulbs, (1x 40W & 1x 25W) - 14 hours a day.  They emit UV which just might be part of the success with Pin-tailed Parrot Finches. Do they see what we cannot see in the opposite sex?

Two normal 60W bulbs on dimmer control give sufficient light (10% setting) during the night to reduce night frights.
Heat & Humidity - entire aviary is double glazed. Minimum temperature 23°C/ 70°F by a fan heater, (need for heat confirmed by many other breeders). 

Temperatures during the summer have reached 32°C/ 90°F without adults showing the slightest discomfort, perhaps even the reverse.
The double-glazing may also serve to contain and hence enhance cock-bird song.  Could this add to the breeding stimulus of a natural colony bird?

Relative humidity is 50 - 60% depending upon frequency of watering of two pot plants.  Much success with high humidity has been reported by others, which fits their natural environment.
Screening is essential. Generally provided by conifer branches attached to wire cage fronts. Alternatively, use fine plastic garden mesh.

The doors of the cage fronts are always open or removed. The birds have access to 'protected' areas, so, the role of the cage fronts is purely as security-enhancing partitions.
Two diagrams - '3D' & a 'Bird's eye view', with measurements, are at
Diagrams
of Egg Factory.